Control your heating system wherever you are in the simplest way. Define plannings fitting your daily routines, or take back control manually according to your life's events. Save energy and money by precisely managing your home's temperature. Monitor your global consumption to adjust your schedule and optimize savings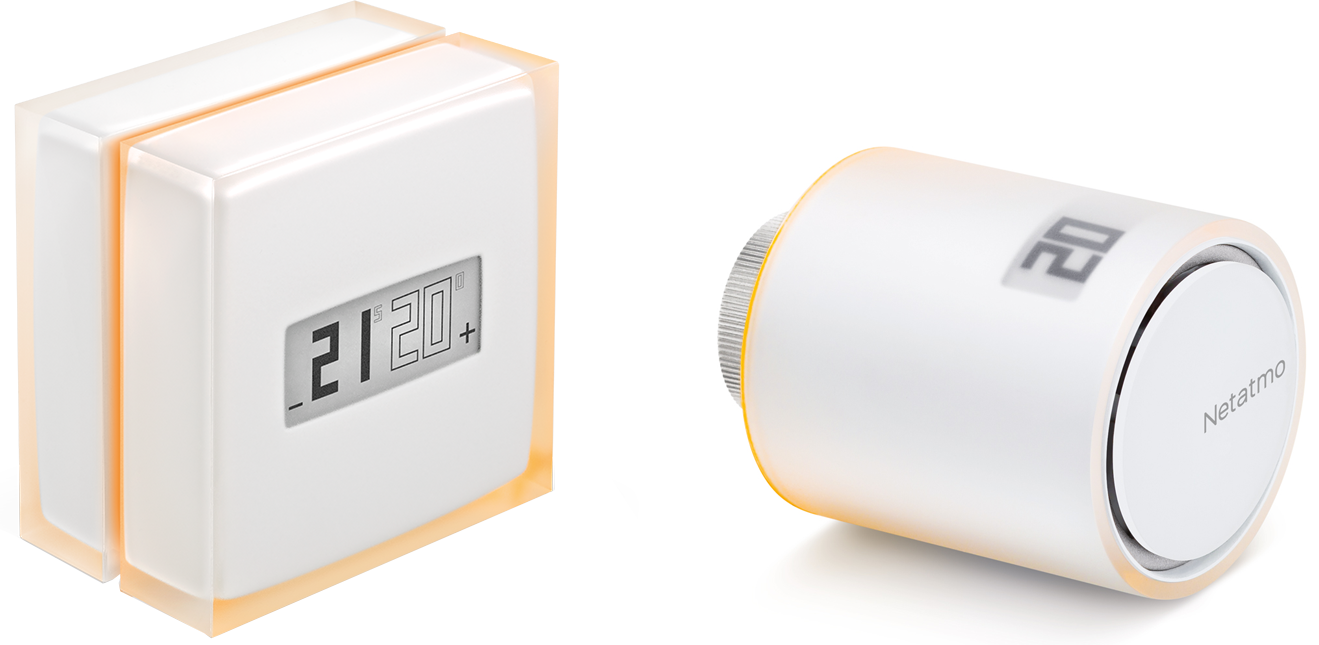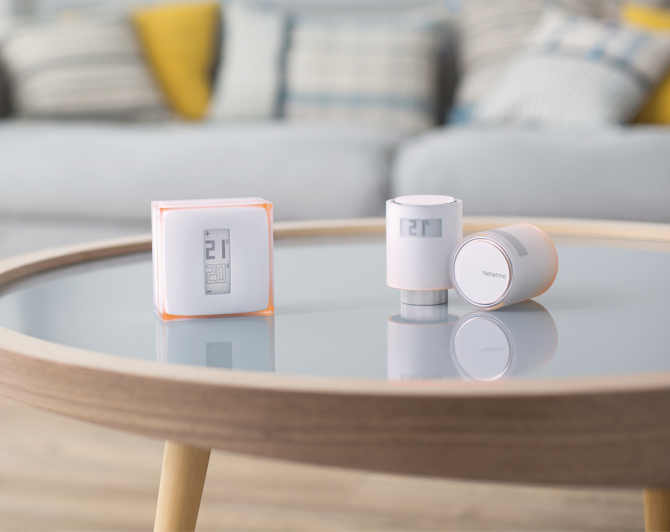 The combination of comfort and energy saving
Benefit from advanced features helping you to manage your heating consumption :
Auto-adapt :
An algorithm takes into account your home's insulation and the outdoor temperature to start heating when it's needed
Auto-Care :
Your thermostat sends you a notification when it will soon run out of battery and if a dysfunction happens on your heating system
Remote control and plannings :
Wherever you are, check the temperature of your house and adapt it manually if needed. Benefit also from plannings allowing you to program your heating according to your life's rhythm
Energy savings reports :
Via your Netatmo "Energy" application, check the historical data stored by your device. Also, receive customized energy savings reports helping you to better understand your consumption and how to optimize it. Simply save energy without compromising your comfort !
Complete your installation with Smart Radiator Valves
Manage room by room the wanted temperature by replacing your existing radiator gauges by brand new Netatmo Smart Radiator Valves (a Netatmo Thermostat is needed). The same application will let you take control over all your heating system. You can also manage it locally by turning up the valve like a classical one
Benefit from room-by-room schedules allowing you to save more energy by not heating a non-occupied area  
New additional features will enhance your installation :
Open window detection :
The valve will detect if you opened a window to ventilate your room and will automatically switch off heating to prevent energy waste
Smart regulation :
According to room use and sunshine level, the radiator valve will automatically adapt the temperature
Manual boost :
You need a room to be quickly at the right temperature ? The heating can be temporarily raised for 3 hours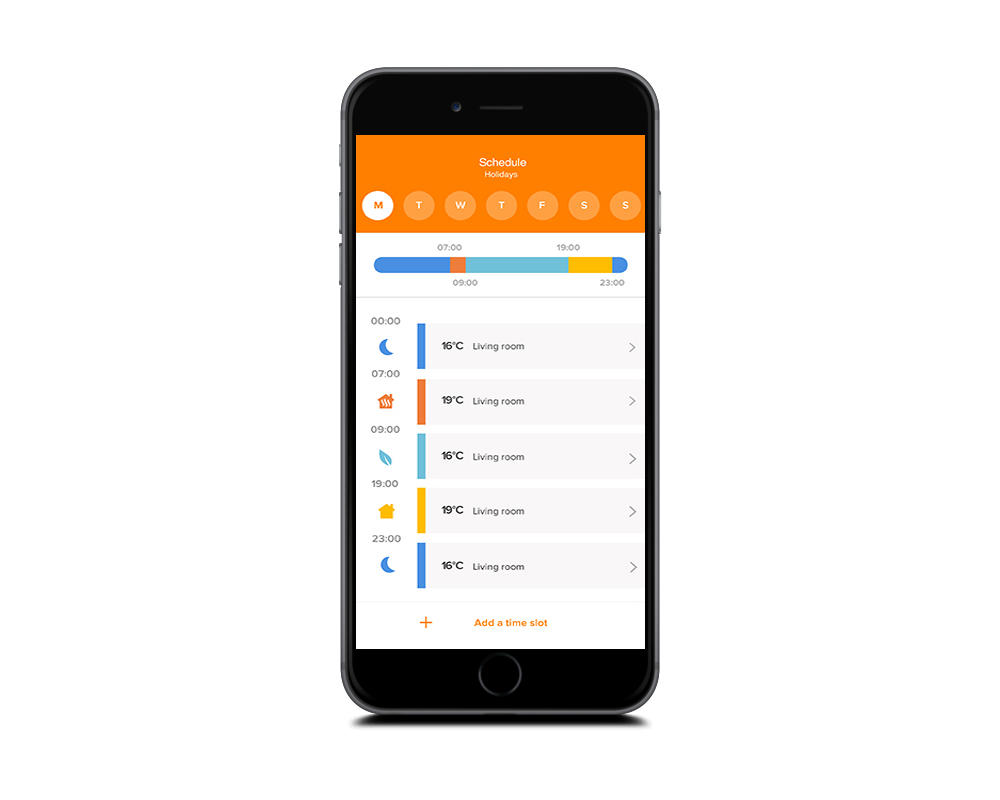 "Netatmo Energy" application
Consult at a glance the current temperature of your home and manage it with a simple click
Define automatic plannings according to your needs, or launch them manually  
Follow your consumption to optimize it and save energy and money
Compatible with main vocal assistants : Apple HomeKit, Amazon Alexa, Google Assistant
The smartest way to save energy - Netatmo Smart Thermostat
Replace your old thermostat by a brand-new Smart Thermostat from Netatmo.
By a simple click in your application, control precisely the wanted temperature for your house. Leave your home with serenity by knowing that you will save energy thanks to programmable schedules, based on your daily routines
You will come home earlier than planned ? Take remotely control over your Thermostat and define a boost mode : your home will fast reach the desired temperature while you are on your way back
Monitor your consumption to know exactly the energy savings you did without giving up your comfort ! The Smart Thermostat is compatible with home gas, oil or wood heaters, as well as heat pumps
Discover more images for this connected Solution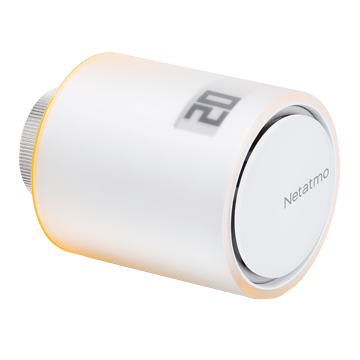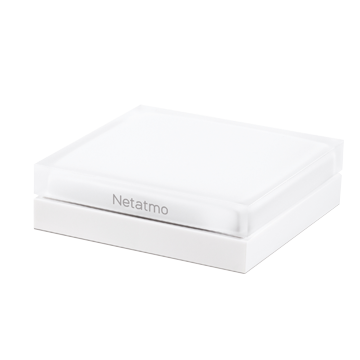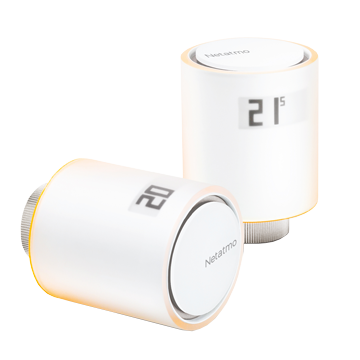 "Netatmo Energy" application
Download the dedicated Netatmo Energy application to manage Smart Thermostat and Radiator Valves solution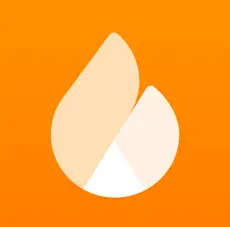 Access to Energy API on Netatmo Connect