A partnership with Vinci Immobilier
Vinci Immobilier established a partnership with La Poste and Legrand to bring their customers a connected experience in a new residence in Blagnac (France)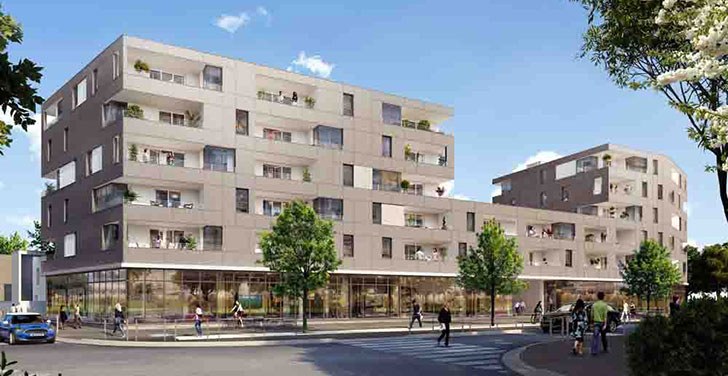 A full connected building solution
This new residence contains 78 apartments (58 collective housing including 18 social housing and 20 villas) in Andromède neighborhood near Toulouse (France).
In an interview given to L'Usine Digitale, Diego Harari, responsive of innovation and sustainable development at Vinci Immobilier says: "our role is not to provide connected devices. But our mission is to build an infrastructure to connect the devices. Users have to be able to install all the connected devices they can acquire and manage them in global intelligence". Also, he predicts: "Today, we sell square meters in a defined place. But tomorrow the economic value will depend more and more of the e-services we will be able to bring"
Thanks to the application of La Poste "Le Hub Numérique" and Legrand devices, Vinci Immobilier had been able to create life scenarios for their inhabitants. The interactions with connected devices are aimed to facilitate everyday life
For the future users of those connected devices, all had been simplified. They can manage their installation with "Le Hub Numérique". 5 preset life scenarios are ready to be used (Quiet holidays, Night mode, Entry mode, Exit mode and Water consumption). Users can also create their own scenarios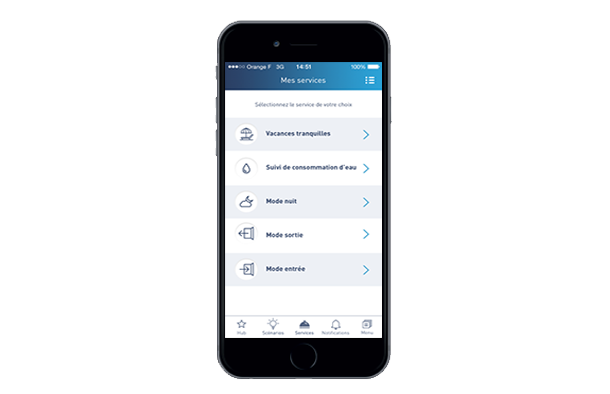 This video explains the possibilities given by the application.
A family downloads the application "Le Hub Numérique" of La Poste. Thanks to this intuitive and universal interface, they can consult and manage the data of their connected devices and access to custom services. Different use cases are shown: when the soon of the family is going to school, he can be geolocalized and a notification is automatically sent when he comes back home. His mother always loses her keys, so she invests in a connected key ring with a tracker
Later, they program a scenario for the morning awakening. Thanks to the connected plugs Céliane™ with Netatmo, on which the devices are connected, all the family can be waken up simultaneously. If there is important traffic on the road, the application can automatically manage the awakening hour in order not to be late.
When the last occupant of the house is leaving, he can activate the "Leaving home" scenario. The entry door locks, thanks to Céliane™ with Netatmo lights switch off and rolling shutters closes, home alarm initiates and the heating decreases thanks to the Smarther. A notification is sent on family's smartphones telling them that the home is empty and closed.
The grandmother of the family is sick and is alone at her home. Thanks to sensors, the family can be warned if there is a problem. Also, they subscribed a service asking the postman to visit the elderly lady every day.
This is winter and the family is looking for a solution to decrease the heating bills. They shared with the application their consumption data and they are purposed to subscribe to a less expensive energetic contract by using a manageable connected thermostat: the Smarther.
VINCI Immobilier, a subsidiary of the VINCI Group, is one of the principal players in property promotion in France. With operations in some 15 cities including Paris and the French regions, VINCI Immobilier covers the two main market segments: residential property (housing and managed accommodation) and commercial property (offices, hotels, retail), thus providing services to investors, institutions and individuals. VINCI Immobilier also provides its customers with its consulting and building management expertise through its "services" division. Thanks to its multi-product offering and its expertise in carrying out large complex projects, VINCI Immobilier works with local authorities to carry out their urban improvement projects and is thereby involved in developing urban areas. Vinci Immobilier's website
Wholly owned by public shareholders, La Poste is a limited company structured around five business units: Services-Mail-Parcels, La Banque Postale, La Poste Network, GeoPost, and Digital Services. The Group operates in 40 countries on 4 continents. La Poste's 17,000 retail outlets make it France's leading local business network, serving 1.6 millions customers every day. La Poste delivers 23.265 billions items worldwide per year (letters, printed advertising media and parcels), 6 days a week. In 2016, the Group generated €23.294 billions in revenues (22.4% out of France) and had more than 250,000 employees. Learn more about "Le Hub Numérique"